Buy DVS-8K VST Plugin Synthesizer 1.17 full version
$ 10.08
Click here to Buy from the Publisher
Visa, PayPal, Mastercard, Amex, Discover, Check, Purchase Order/Invoice, major cards
Would you like a free copy of
WinZip? Other offers
Description:
DVS-8K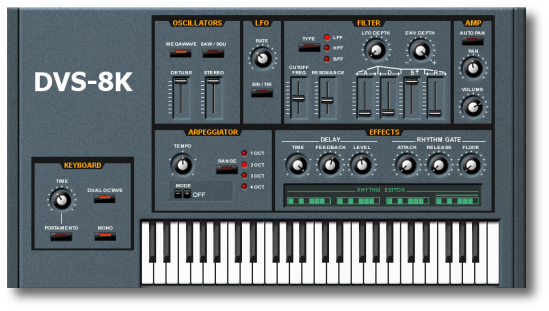 This VSTi Plugin was inspired by a well known Roland® keyboard with it's SUPER SAW sound so popular in modern dance music. It should be noted that this plugin was not designed to emulate the original hardware.
The DVS-8K's oscillators are mixed and panned in stereo through dual filters, envelope generators and stereo effects to produce a really fat and wide powerful sound.
The Plugin is for use in music sequencing software like Cubase, Sonar, Ableton Live etc. (Windows PC Only).
VST Technology by Steinberg Media GmbH